---
Historic Buildings In Boston, Massachusetts
---

Old Massachusetts State House
The Old Massachusetts State House is the oldest extant public building of Georgian design in the United States. Built in 1712-13 to replace an earlier structure of wood completed in 1658 and destroyed by fire in 1711, the Old Massachusetts State House, or Second Town House, served a variety of purposes for the Province, for Suffolk County and for the town of Boston. This building became the State House of the new Commonwealth of Massachusetts in 1776, and remained so until 1798 when the legislature moved to the State House on Beacon Hill.


---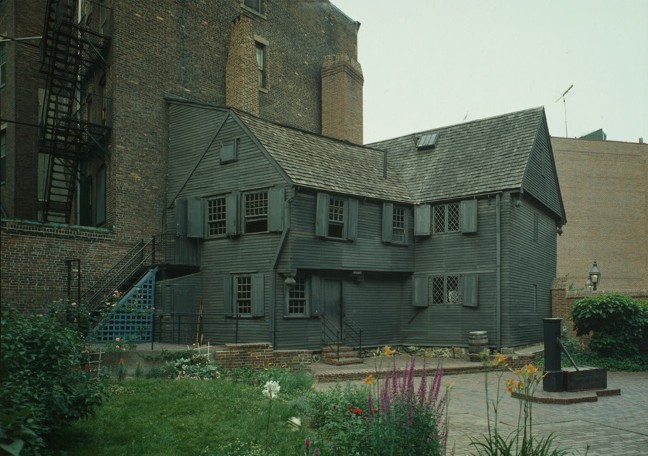 Paul Revere--silversmith, pioneer, industrialist and a leading Revolutionary activist--owned this house in North Square from 1770 to 1800. Constructed c. 1678-1680, the building is the sole survivor of Boston's 17th century row houses. The Revere House as originally built, was one unit in a two-story, gable-roofed row. The main part of the house--four bays wide--contained one room on each floor, the second story featured a framed overhang. A two story ell--two bays deep--also had one room on each floor, and a similar overhang. Evidence survives of a sophisticated original interior treatment that included lath and plaster ceilings and painted graining.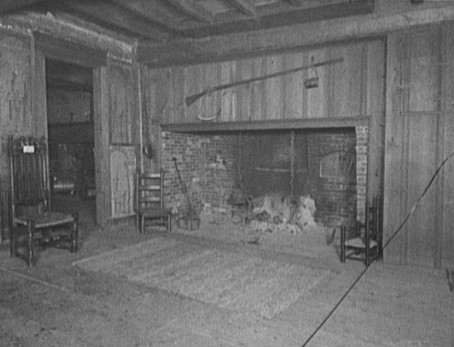 Living Room
The Revere House has changed greatly from its original appearance. Alterations continued throughout the 18th and 19th centuries with the last major one being the restoration by Joseph E. Chandler in 1907-1908. The house thus reflects the romanticism of the Colonial Revival period as well as it does the Colonial period itself.

Ell chamber
Faneuil Hall was called the "Cradle of Liberty" because many important meetings of protest were held here before the Revolution. It was the first Colonial attempt at academic design, completed in 1742 from the plans of John Smibert, the Colonial portrait painter, and given by Peter Faneuil, a Boston merchant. It contained a town hall above and a public market below.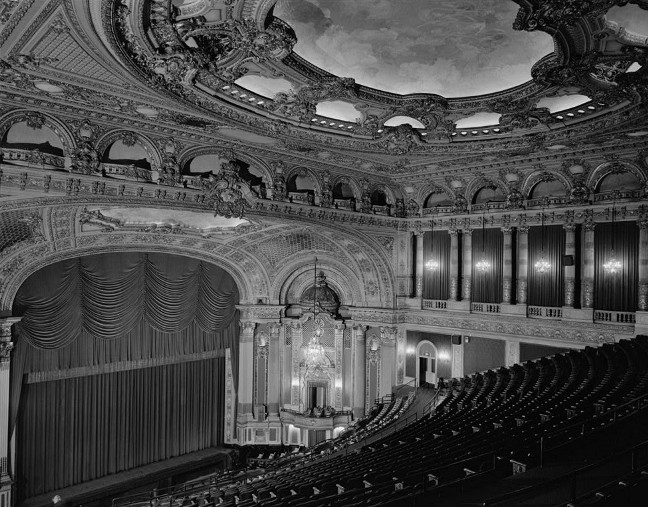 The B.F. Keith Memorial Theatre is one of the finest examples of the moving picture palace at its highest stage of development. Designed in the grand Baroque manner by Thomas W. Lamb, one of the foremost theatre architects of his day, it was erected at the behest of Edward Franklin Albee (1857-1930) to memorialize his late partner, Benjamin Franklin Keith (1846-1914), co-founder of the Keith-Albee theatres and originator of the refined vaudeville entertainment that flourished from the turn of the century until the 1930s. The theatre gained added significance in 1978, when it was acquired by the Opera Company of Boston through the initiative of Artistic Director Sarah Caldwell as the home of grand opera for a major metropolitan area.

Hollis Street Theater

Built as a church 1810. Remodeled for a theatre 1885.

Hollis Street Theater
Demolished 1935. Architect John R. Hall.

Union Oyster House
---
The Boston Theatre
---
---
MASSACHUSETTS
---
Historic
America
www.historicamerica.net
---
Let's Make History!


MASSACHUSETTS INTERNET TELEVISION STATIONS FOR SALE