---
Historic Buildings In Saint Paul, Minnesota
---

Alexander Ramsey House
The Alexander Ramsey "Mansion House" is an excellent example of the large private residence being built in St. Paul during the latter half of the 19th century, and is a symbol of the rapid economic and cultural development of the northwest after 1850. The house is of particular interest because it has been altered only slightly from its original condition, and has retained almost all of the original furnishings.

F. Scott Fitzgerald House
Fitzgerald family home where F. Scott Fitzgerald completed his first novel, "This Side of Paradise" in 1920, beginning his fame. Fitzgerald, said to be a spokesman for his generation, embodied the essence of disillusioned post-war outlook.

---

James C. Burbank House

This residence is one of the finest early residences in the Italianate or Tuscan style in St. Paul.

James J. Hill House
One of the show places of St. Paul at the turn of the twentieth century.

Laurel Terrace

Postelethwait House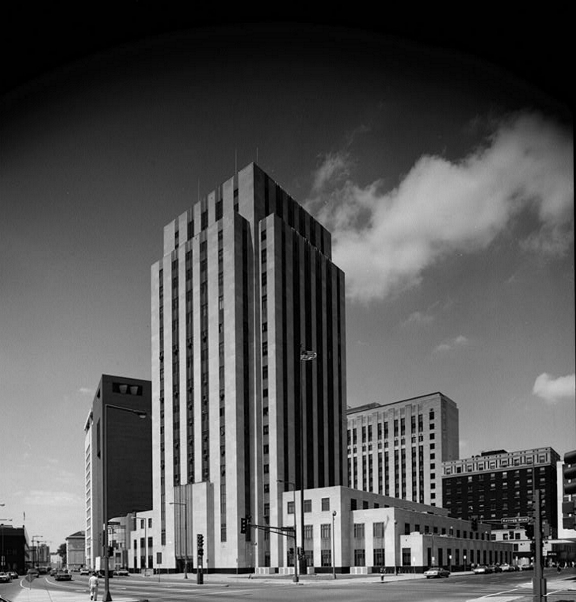 St. Paul City Hall & Ramsey County Courthouse
The Saint Paul City Hall and Ramsey County Courthouse is a stunning example of innovative public architecture from the American Depression Era. Commissioned in 1930, and completed in 1931 by Holabird and Root of Chicago and Ellerbe and Company of Saint Paul, the City Hall design uses two Art Deco styles known as "American Perpendicular" and "Zigzag Moderne." The use of Art Deco styles and incorporation of technologically advanced functional features in the new City Hall building make it a distinctively "modern" structure in the context of 1930's architecture. Art works which symbolically depict the progressive ideals of a modern industrial society add to the futuristic image of the architecture. Because it was constructed of the highest quality materials and is an excellent representative of a past style in the contemporary built environment, the City Hall is still considered an architectural masterpiece and a landmark in the city of Saint Paul.

Mickey's Diner
---
MINNESOTA
---
Historic
America
www.historicamerica.net
---
Let's Make History!


MINNESOTA INTERNET TELEVISION STATIONS FOR SALE